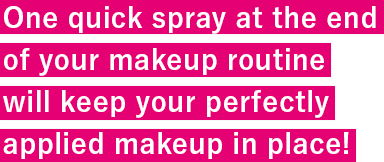 Keeps your makeup looking fresh
and beautiful for hours!
Formulated with makeup coating ingredients, MAKE KEEP MIST keeps your makeup firmly in place while stretching with the movements of your face so that your makeup stays beautiful and smudge-free for hours.
Sweat and sebum resistant formula
Repels sweat, water and even sebum to hold firm against shine and smudging.
Locks in moisture and prevents dryness
MAKE KEEP MIST is formulated with a moisturizer to hydrate the skin and protect it from dryness, keeping it fresh and moisture-rich.
Fresh floral fragrance
No dyes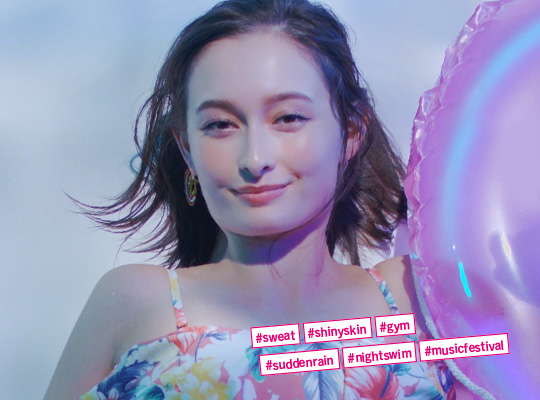 *Allow the skin to air dry after applying mist. Do not touch while wet.
*Use cleanser to remove.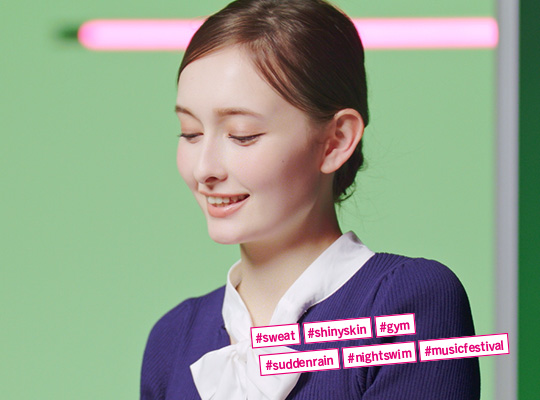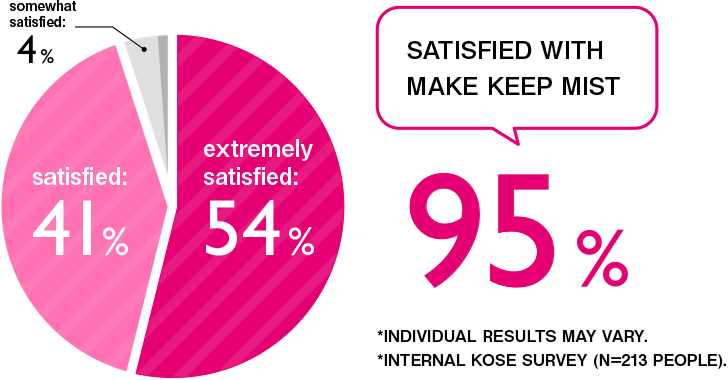 After applying my makeup, a quick mist made my skin feel completely refreshed, and my makeup stayed put even through sweating. It also prevented shine due to sebum, meaning I'm totally satisfied.(Woman, 20s)

My makeup didn't smudge, even when sweating. Not just my foundation—it even kept my eye makeup in place, protecting against shine, stickiness, and dryness way beyond what I expected.(Woman, 40s)

Simply spritzing it on after I put on my makeup was so easy! It sprayed on evenly for a uniform, beautiful finish. It also protected from sebum and dryness, effects I could feel whether I was outside in the heat or inside dry rooms.(Woman, 30s)

Wiping away sweat with a tissue used to also wipe away or smear my foundation, but this protects my makeup so none of it comes off, keeping it looking smear-free and beautiful. I loved that I didn't have to fix my makeup when I sweat.(Woman, 20s)

Provides closer coverage to really keep my makeup in place. I felt secure knowing my makeup wouldn't easily become smudged, and I was pleased by how easy touch-ups were. My skin stayed moisturized all day. I really loved the luster!(Woman, 40s)

Completely kept my makeup in place, despite being so inexpensive, and kept me feeling fresh and comfortable all day long.(Woman, 30s)