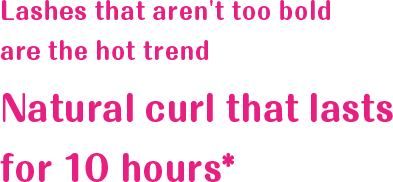 MultitaskMascara
EffortlessLashes
MediumVolumeLashes
OnTrend

※ コーセー調べ。個人差があります。 Lashes that aren't too bold
are the hot trend
This multi-tasking mascara
does 3 things at once!
Curl and transform your lashes
to suit any occasion
- whether keeping
it natural or with medium volume!
For glossy, upsewpt curls,
with color that pops.








For curly, long-lasting eyelashes
that hold their shape even
without a curler.

Primer

When used as an eyelash primer, helps eyelashes to keep their upward curl and length. Secures your lashes from the
moment of application, for long-lasting upswept curls.

Top coat

When used as a top coat, gives a beautiful, glossy finish that lasts.Waterproof against sweat, water and tears. Stops all types of mascara from smudging.

Mascara

When used as a mascara, gives glossy eyelashes, beautifully separated from root to the tip without clumping. Gently pigments lashes for an impactful look while still having a natural finish. Use comb to apply an appropriate amount, lifting from the roots to the tips.
・When using as a primer, apply your own mascara before it
dries.
・When using as a top coat,
apply after applying your own mascara.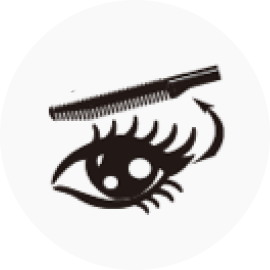 Lift from the roots with the comb,
and hold for a few
seconds for greater curl.
*Over-application can cause curl to sag due to the weight of the liquid.
*Rinse immediately if contact with eyes occurs.
*Wipe around the container opening and replace the cap firmly after use.
*Remove with an eye makeup remover.







Check out our trend video on how to curl
and
transform your lashes♡